About Louise Denson Group
Louise Denson Group performs Louise's original compositions which feature beautiful melodies, rich harmony and happening grooves, reflecting her experience in jazz, classical, Afro-Cuban and Brazilian music. The first incarnation of LDG came together in 1996 in Montreal for the recording of On the Level, with Frank Lozano (tenor/soprano sax), Aron Doyle (trumpet), Mike Milligan (bass) and Gary Fieldman (drums). LDG played numerous venues in and around Montreal and was a contestant in the Prix de Jazz duMaurier at the 1998 Montreal International Jazz Festival.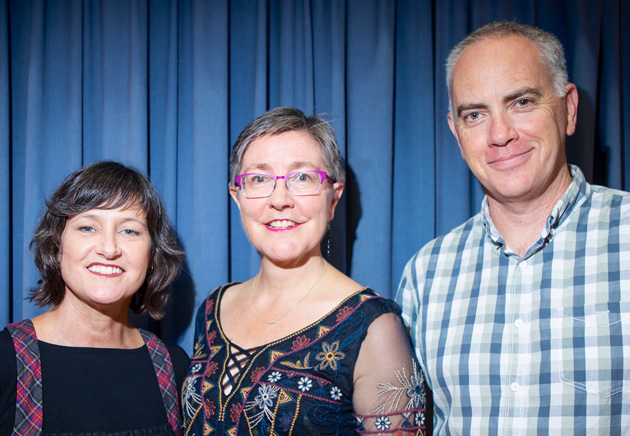 The current incarnation of LDG dates to 2000, shortly after Louise migrated to Brisbane to teach at the Queensland Conservatorium. Their recording Clean Start (2002) featured the late Tony Hobbs (tenor sax), John Hoffman (flugelhorn), Phil Noy (alto sax), Helen Russell (bass), Joe Marchisella (drums) and David Allen (congas). Clean Start won a Queensland Recording Association Sunnie Award – Best Jazz CD (2003), and LDG subsequently performed at the Wangaratta Festival of Jazz and Blues (2005). Tracks such as "Low Moon" and "Ineffable" have received frequent airplay on ABC Radio National and independent jazz radio stations ever since.
In 2007 LDG teamed up with internationally acclaimed vocalist Ingrid James to record Portrait. This was the first of several collaborative projects between Ingrid and Louise over the next eleven years. Portrait contains six Denson and Denson/James originals, as well as two compositions by noted Australian guitarist James Sherlock, and four arrangements of material ranging from a Finnish folk tune to Strayhorn's "Passionflower". The group performed the material at the Manly Jazz Festival, Melbourne Women's International Jazz Festival and Noosa Jazz Festivals, in addition to Brisbane festivals and events. Their song "Time to Be" won the QSong Pinnacles Jazz Award – Best Jazz Composition (2007), and "Lonely Wing" was chosen for publication in the first Australian Jazz Realbook.
In 2010, Louise fulfilled a decade-long dream with the formation of LDG-Latin! to record the CD Flame Tree. Brisbane's top Afro-Cuban musicians brought Louise's ten originals to life: Sacha Kloostra (drums), Gustavo Cereijo (congas), Jeremy O'Connor (bass), David Allen (batá), John Stefulj (winds) and Bob Schultz (trumpet). The repertoire includes descarga, boogaloo, Afro 6/8, samba and bossa nova. They were joined once again by Ingrid James on several numbers, for both vocalese and lyric parts. Flame Tree was launched at the Brisbane Festival (Spiegeltent), and five of the compositions were either finalists or Highly Commended in QSong Award rounds in 2010/11. Louise is currently arranging them for big band.
In addition to the musicians mentioned above, LDG has shared the stage with horn players Sandy Evans, James Sandon, Martin Kay, Julien Wilson, Tristan Rogers, and Paul Armstrong; bassists Michel Donato, Ben Robertson, Helen Svoboda and Zak Sakrewski; drummers Tony Floyd, Paul Hudson, Ronny Ferella, John Parker and Nathan Goldman.
Louise continues to compose for LDG trio, quartet and quintet formations and has material ready for several recording projects. Stay tuned….