Dark Sky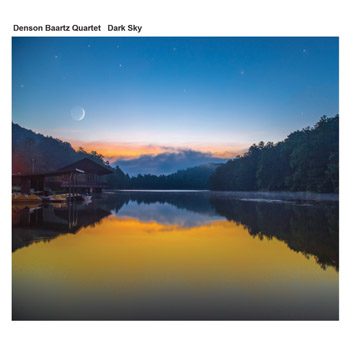 Listen
1. Dark Sky
2. Kingston blues
3. Lately
4. Now You Are Gone
5. King's Gold
6. Murphy's Love
7. Cheek
8. She Can
9. Sambacita
10.Frangipani

CD Information
Denson Baartz Quartet
Louise Denson (piano)
Martha Baartz (alto sax)
Helen Russell (bass)
Aaron Jansz (drums)
"You've hit the jackpot with this one…"
- Bryn Town (former presenter of Soundscapes)
"It's beautiful work, the best you've done. Great line up too."
- Leon Gettler (Jazz with Gettler on J-AIR).
"This is excellent – very good musicianship PLUS beautiful original jazz… a seriously good album. Good compositions and well played."
– Brian Elliott (Presenter at 94.1FM Gold Coast Radio
4 stars*
Pianist Louise Denson and alto saxophonist Martha Baartz are co-leaders on this debut album by a relatively new group featuring their original compositions. It was recorded live at the Brisbane International Jazz Festival in 2017 at the Brisbane Multicultural Centre.
Denson and Baartz are perfectly matched in this delightful collection of tunes which range from gently driving swing in Kingston Blues (Baartz) to the more pensive Now You Are Gone (Denson), which begins with solo piano before the alto saxophone floats in a wistful, slow lament. The album feels infused with balmy air currents, yet the toes will be tapping during Sambacita (Denson) and the jaunty She Can (Baartz). Piano and sax combine to give momentum in Cheek (Denson), and there is a bright and saucy strength to King's Gold (Baartz). The alto muses over strong bass and piano rhythms in Lately (Denson). The title track (Baartz) seems less about foreboding and perhaps more about the gradual closing of a day, while the beautiful Murphy's Love (Baartz) is a dreamy soliloquy woven tenderly with piano, bass, sax and flugelhorn notes.
Dark Sky is a debut album for this group, yet it feels like a completion – a coming together that was meant to happen.
Dark Sky was recorded, mixed and mastered by Mark Smith of Real Productions, and was released under the Pinnacles Music label.
* I don't like giving stars, because they mean such different things to different people, but the rating is out of five and that number would rarely, if ever, be reached, and then only on an album that had stood the test of time.
Roger Mitchell – Ausjazz Blog