Colours of your Love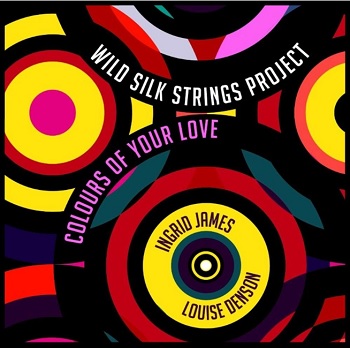 Listen
1. Gnossienne No 1.
2 Constant Craving
3. Flame Tree
4. First Love
5. Tristeza de Amar
6. Wild December Wind
7. It's Too Late
8. The Logical Song
9. If You Could Read My Mind
10. Colours Of Your Love
11. Maybe Tomorrow
12. Gone Too Soon


The intriguing thing about Ingrid James is that, where many other singers with such a well established reputation would be content to rest on their laurels, she is constantly seeking ways to re-contextualise herself. Just when you think you have an idea of the sort of singer she is, she dreams up a new project to frame her beautiful voice and you find yourself forced to listen to her with new ears. This wonderful new cross-cultural project is the result of a highly successful collaboration between Ingrid and Louise Denson - and it proves to be the perfect vehicle for both of them to explore and expand on their shared musical interests.
The repertoire is broad and eclectic and yet is effortlessly bound together by the treatment it receives in this ensemble - so much so that one feels as though one is listening to a 'suite' rather than a simple compilation of tunes for an album. The ensemble, both through the sounds of the individual improvisers and the deft writing and arranging for the strings, brings a fresh 'sound' to the repertoire they have chosen to record. The rhythm section grooves are beautifully crafted to provide a solid underpinning for the string quartet textures and in turn, the front-line improvisers appear to dart in and out of the ensemble sound - sometimes appearing deep within the written textures and then emerging to provide a welcome improvised commentary to Ingrid's narrative.
The song choice on this album gives some hint as to the broadness of Louise and Ingrid's reach as musicians - and the fact that this album hangs together is a testament to their combined skills and their vision.
From the opening reworking of Eric Satie's 'Gnossienne No.1' through to the Brazilian composer Geraldo Vandré's 'Tristeza De Amar' - and then onwards to Carole King's 'It's too Late', Supertramp's 'Logical Song' and Gordon Lightfoot's 'If you can read my mind' - the listener is taken on a thrilling journey through an eclectic repertoire with a vast emotional landscape. The boldness and the variety of the song choices on this album means that the 'sound-world' has to be strong enough to bind it all together… and it certainly is. The personality of the writing and arranging behind this album makes sure of this and shines through on every track.
Ingrid James always chooses her lyrical narratives carefully and with the intimate and inventive framing of each song by Louise Denson and the ensemble, the complete package of this album delivers on so many levels. It is a real 'album' and it needs to be taken in its entirety if one is to appreciate the scope of the project. This is a great project, lovingly put together - as you would expect from musicians of this calibre - which has been executed with consummate skill and artistry.
Pete Churchill, Professor Jazz Composition, Royal Academy of Music, London – singer/pianist/conductor
Ever since 1961, when Stan Getz recorded the accclaimed album Focus with a string quintet, it's been more than just acceptable to make superb music by combining the talents of jazz musicians and a few 'legit' players. Now the bar has been raised with the welcome addition of one of the jazz world's most phenomenally gifted voices in Ingrid James, and the writing and pianistic talents of the ever-creative Louise Denson.
Colours of Your Love is an appealing mix of 20th century popular melodies with highly attractive new works, music by Louise, lyrics by Ingrid. This is not their first collaboration: Their 2006 release called Portrait follows a similar formula of new plus familiar and is also a gem.
What makes this new CD so special is the subtle yet highly effective incorporation of Latin rhythms on many of the tracks. All-ballad CDs can sometimes slip into a sleep-inducing rhythmic sameness but Colours holds your attention with ever-shifting time signatures and marvelously evocative word pictures to stimulate the imagination.
Here are just a few of the standout moments:
With its exotic minor key Turkish motifs, Erik Satie's Gnossienne #1 has been thrilling listeners for a century. Ingrid's note-perfect wordless vocal is like a walk through the dark alleys of a souk, summoning a world of silks and spices and mystery. Similarly, the strings convey a sultry atmosphere on K D Lang's Constant Craving.
If you love Mongo Santamaria's work as much as I do, you'll be captivated by Flame Tree, very danceable with Ingrid singing again in sparkling form without words and fine Getz-like sax from Dr Paul Greggors White. First Love is a Denson/James collaboration that marries romance a la Vienna 1900 with a soft Latin beat and mellow trumpet work from Paul Armstrong.
Tristeza De Amar explores the sadness of love, and Ingrid's voice perfectly conveys that dichotomy. Louise's piano caresses the melody and the effect is intoxicatingly romantic. A sassy samba, Wild December Wind is noteworthy for the mature, satisfying writing for the strings.
Next we savour three very fresh re-workings of hits from the 1960s-70s. With its stimulating tempo shifts, Supertramp's The Logical Song kicks the Latin mood up a few notches. It's Too Late is from Carole King's mega-best seller LP Tapestry and only Karrin Allyson's excellent interpretations of Ms King's tunes compare well with this version. Canadian folk great Gordon Lightfoot wrote If You Could Read My Mind with a lyric that demands restraint and great emotional depth, qualities you always associate with Ingrid. The imaginative arrangement suggests Sting meeting Wayne Shorter (a nice thought).
This CD's last three tracks are all original collaborations and are among its strongest creations. The title track opens with dark minor strings, moves into the sunny uplands of the samba with delicious chord changes and includes yet another lyrical solo from Paul. Maybe Tomorrow will remind listeners of a magical late 1950s swing waltz. Ingrid's captivating words and the sheer loveliness of Louise's melody grace Gone Too Soon with all the qualities you'd hope for in a 21st Century standard".
Steve Robertson - Long-time jazz writer and host of Monday Night Jazz On Fleurieu FM in South Australia.
So much happy listening here, with this gorgeous explosion of world sounds richly mixed together between strings and voice, along with the rhythmic propulsions of the latin and jazz infused players.
I believe Louise Denson and the musicians that surround her on this Wild Strings project have made a recording of the highest quality. It includes riveting string arrangements, along with musicians performing at the top of their game, expressing themselves at a high level where they can take risks, resulting in originality, and lyrical beauty.
This project includes strong compositions, and delicate arranging details by Denson. She has included rhythmic ideas that cross genres in content, including jazz, pop and world music in the repertoire that she has chosen to work with. There is a really strong connection between herself and the vocalist especially, that comes through in the recording. There is some wonderful Canadian content that draws from her roots, and she does a great job in adding an arranger's pen to making those tracks in particular sound fresh. Bravo, I hope the music crosses borders outside of Australia in the future. I would be delighted to hear this project live on the international stage.
Christine Jensen, Multi Juno Award-winning composer/saxophonist, Director, McGill Jazz Orchestra I
The Wild Silk music ensemble project conceived and directed by Dr. Louise Denson and Ingrid James is a high quality musical endeavour which delivers engaging and arguably rare music to audiences. I found the arrangements and original compositions to be of the highest quality and especially noted the diversity of sources including popular pieces that are given an incredibly vibrant reinterpretation in this ensemble. Every work undertaken by this ensemble and its founders is of unique value artistically and aesthetically. The overall effect goes beyond being entertaining and refreshing, reaching to the core of the art forms embraced in their presentations. My experience as a professional in this field is that Wild Silk is a deserving project characterised by authoritative and disciplined talent and creative musical and cultural exploration.
Dr. Michael Knopf, guitarist/composer/educator
Ingrid James & Louise Denson's Wild Silk Strings Project is a undertaking of no small measure. It's a beautiful mix of exotic grooves and instrumentation with a killer line up of musicality.
Ingrid's voice dances through many familiar songs and original compositions like a breath of fresh air. The delicate backdrop of strings and horns ranging from the simmering to the exotic has an autumnal quality that envelops the listener.
This music brings me to a place that's both unexplored yet somehow familiar. A beautiful and bold exposition of music, and without doubt a successful creative collaboration.
Adrian Cunningham (multi-instrumentalist/bandleader, NYC based)
Wild Silk Strings Project is a body of work with an identity of its own due to the skilful writing and arranging of Louise Denson and the voice of Ingrid James. This album showcases a diverse repertoire that includes original compositions and covers of well-known pop tunes such as 'The Logical Song' by Supertramp. Traversing through the modal exoticism of 'Gnossienne No.1', to a cha cha chá in 'Flame Tree', and the funk treatment of Carol King's 'Its too late' I was struck by the perfect pairing of strings and voice. Ingrid James' vocal strength is encircled by beautiful string arrangements that add subtle percussive accents (Gone Too Soon), romantic countermelodies (First Love), jazz-style harmonic pads (Constant Craving by K. D. Lang) and at times provide a gentle reflective mood (Colours of Your Love). This album takes you on a journey that is evocative, tender and contemplative.
Gai Bryant - Saxophonist/composer, Tutor - Sydney Conservatorium Open Academy, Leader - Palacio de la Rumba big band
What does a perfect jazz CD sound like?
From the minute you put it on you are transported on a magic carpet ride through beautiful melodies, great rhythms, excellent musicians, world-class vocals all floating atop great arrangements and contained in an exquisite sonic atmosphere.
You will find nothing less on Ingrid James and Louise Denson's latest musical collaboration, featuring The Wild Silk Strings Project.
There is a distinctly Latin feel to much of the CD which simply adds to the great feeling you get while listening to Louise's wonderful piano, Ingrid's silky vocals, her out of the box scatting that includes middle eastern scales, and those beautifully arranged strings and tasty horns. All in all, it's a joy to hear a CD in which every piece works seamlessly to create a harmonic whole.
I could go on, but why spoil the delicious surprises awaiting you. Do yourself a favour and add Colours of Love to your jazz collection. Your ears and heart will bow in gratitude.
Jeff Hutner, Vocalist, Composer, Cygnet, TAS
"Colours of Your Love" is an elegant presentation of song, orchestration and compositional form. It's an inspired achievement in crossover music that achieves originality without distancing its identity from jazz roots."
David Braid, pianist/composer, eight-time Juno Award nominee, three-time Juno winner, Steinway Artist, Special Associate Artist of Sinfonia UK, an Artist-in-Residence at the University of Toronto, Research Fellow at the University of Leeds, adjunct professor at Danish National Academy of Music.
An impressive and innovative project for Ingrid James. Knowing and performing with Ingrid for 18 years now, I was very intrigued to hear how fresh an approach, yet again, she has given to this project. She has used her voice here not only as singer and instrument, but also as a sound. In what feels like a colourful sea of instrumentation and rhythm within some beautiful arrangements, it's great to see her take risks with the sound and colour of her voice. Congratulations!
Matt Baker, pianist/composer, NYC
Two giants of the Brisbane jazz scene came together to preview their upcoming CD at the Queensland Conservatorium on 18 April 2018. Rarely do you get such a gathering of talented local musicians from across the divide of Contemporary and Classical music, rarer still for women to be represented in the majority on a jazz stage, let alone in the primary creative roles. The repertoire is varied and includes arrangements and originals by both Ingrid James and Louise Denson. They soar from the heights of the atmospheric Erik Satie's Gnossienne No 1 to the totally crushable arrangement of Constant Craving, James' voice conquering all the mountains with Denson's beautiful arrangements. Cannot wait for this CD to be available!!
Naomi Doessel (jazz singer/teacher)
The opening track is sublime….then, the rest of the album gets even better! Every song is a gem.
John Diegan, Jazz Radio Presenter, MBS Light
I'm blown away by the music and musicianship to be honest. This is one class act!! I haven't listened to the production closely, which is a positive, as it means it hasn't gotten in the way....I like your inspiring tenor player. Very Breckerish. Love Brecker! And you [Ingrid James] sound gorgeous. Clear as a bell.
Martha Baartz, saxophonist/composer
I can sense that (a) you have been training your voice, mastering your artistry, and perfecting your delivery and phrasing, but also that (b) your voice is more 'seasoned' now, I hear life experience behind the notes. The orchestration is amazing, I love the lush sound and how it interacts with your timbre - it's like you're sitting on a cloud. And I also love the energy an overall vibe of it - it's rare that a string ensemble gets to go along with a 'jazzy' feel...'
Nikos Fokatis, Australianjazz.net online magazine, Melbourne
Confidently directed by two inspirational women driving the Brisbane Jazz Scene; Ingrid James and Louise Denson presented such a delightful project. Ingrid James is a master of the narrative and captivates her audience with reflective stories and her well researched background history and circumstance, of the original composers of their repertoire. Ingrid shares the dialogue with Louise Denson, who gives some wonderful insight into her arrangements and what inspires her song writing. The excellent choice of repertoire for the evening covered a wide variety of material and styles from several decades of music. Such an entertaining smorgasbord of rhythmically stimulating Cha Chas, Boleros and Bossas within a limited performance time frame. To add to this, instrumentally creative arrangements of "If you could read my mind" and Supertramp's successful "Logical Song" made for a satisfying evening of performance. This nine-piece ensemble deserves a packed auditorium and offers such versatility to a wide range of listeners. Such an exciting concept of highly experienced musicians, driven by two extremely talented female performers/composers who intend to make a difference to the music scene.
Gina Ellis, Performing Arts Teacher, Villanova College/Brisbane Musician, Classical Guitar/Lead Singer – Sweet Adelines International
I had a listen to your music and it sounds fab. Really enjoyed it, lovely arrangements, great playing and singing, and very listenable! Congratulations...Lovely recording...
Jason Rebello, British pianist/songwriter/record producer (British Jazz Awards for Pianist and Album of the Year 2016)